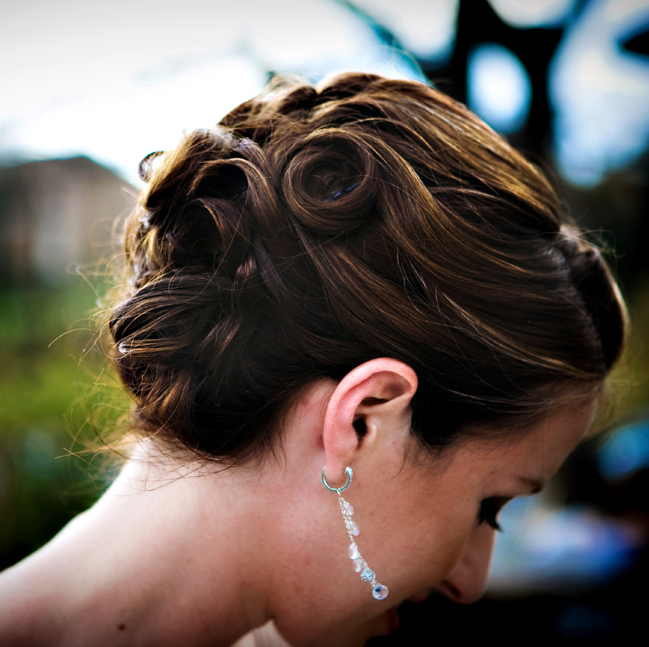 I'm currently working on several custom bridal and bridesmaid jewelry orders.  I absolutely LOVE this part of designing.  I love making something unique for the bride and her friends – something that will enhance their dresses, make them feel even more beautiful on the special day AND be something that the will actually wear again and again (unlike those dresses, beautiful as they may be!)  And each time they put that jewelry on, they'll get to re-live their special day just a bit. 
I'm on a crusade to stop brides from defaulting to that boring fake-crystal-set-in-cheap-base-metal jewelry that I have seen for way too long.  I love the brides who want something beautiful, handcrafted out of gorgeous materials, that complements them beautifully.  I love the girls who aren't giving in to faux renditions of royal jewels and opt for something real – that will last – and that stands a very good chance of actually being worn by their daughters and granddaughters.  (I mean, how many of us actually wore our mother's dress?)  Those brides make me smile and I absolutely LOVE working with them to make their dreams a reality.  And I even love the challenge of staying within their budget, because we all know how expensive weddings are, but I firmly believe that you don't have to compromise…you just have to be creative.  Heaven knows all brides put SO much time and effort (and money) into their dresses.  Why, then, is the jewelry left until the last minute and chosen from what they can find at the mall?  End the madness, already!
Bespoke bridal jewelry.  Get on board now.  I'm committed to making it the norm, instead of just for the special few.  Because it's your special day – and you will love remembering it every single time you put those special earrings.  And I guarantee your children will love trying it on and maybe even wearing it on their own special day. Today, I posted some new photos on our FB page.  Check it out here.  And let me know what your favorite bridal jewelry designs are.  I would love to know!