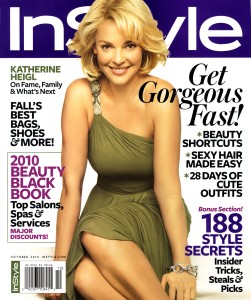 InStyle did a fabulous feature on "Goods for Good" with a few of their favorite items that raise money for breast cancer awareness – and Andrea Montgomery Designs jewelry made the list!
During the months of September and October, 100% of the proceeds from our 2010 Pink Ribbon earrings, that were featured in the magazine, will be donated to The Stehlin Foundation for Cancer Research.  Stehlin is an incredible organization in Houston, Texas that is making a major difference in the fight against cancer. 
Their drug, CZ48 is currently in clinical trials and is making a real difference!  For more information on this worthy organization, check out their website at www.stehlin.org.  To check out our Pink Ribbon earrings pictured below, visit our website at www.andreamontgomery.com.
Get In Style and go pink!