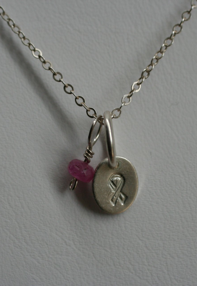 Our 2009 Pink Ribbon Necklace was just selected to be in the gift bags for the Hollywood "What a Pair" event benefiting breast cancer research – so exciting!
Pack your bags, we're going to Hollywood!  Well, our jewelry designs are, anyway.  Each year, we do a "pink ribbon" necklace that benefits a different cancer charity.  This year's necklace is my favorite yet – it's delicate and is a classy, understated way to support an important cause.  I've had many friends and a family member who have battled breast cancer, so it's a cause that is near to my heart.  This year, it's especially close as one of my dearest friends is in the midst of her battle with this dreadful disease right now (and she's doing wonderfully, thank the Lord!)
This year's necklace is extra special, too, because it was recently chosen for the gift bags at the "What a Pair" event chaired by Jamie Lee Curtis.  The event is a celebration of duets by various artists in it's 9th year of raising money for breast cancer research.  That's right – some of your favorite stars received our necklace as a thank you for their participation in the event – including Jessica Biel, Deana Carter, Deborah Gibson, Lauren Graham, Jasmine Guy, Sharon Lawrence, Rita Wilson – and many more!  We're just thrilled to be a part of such a wonderful event.  So, join the celebs and grab your necklace today!